CCR 1
WHY TAKE THIS COURSE?
GUE's Closed-Circuit Rebreather Diver Level 1 course is intended to provide the opportunity for divers to gradually transition from open circuit diving to closed-circuit diving.

The course is intended to challenge divers in a comfortable environment that emphasizes the need for learning management, maintenance procedures, and protocols of the closed-circuit rebreather. The course also emphasizes the need for increased physical and mental fitness.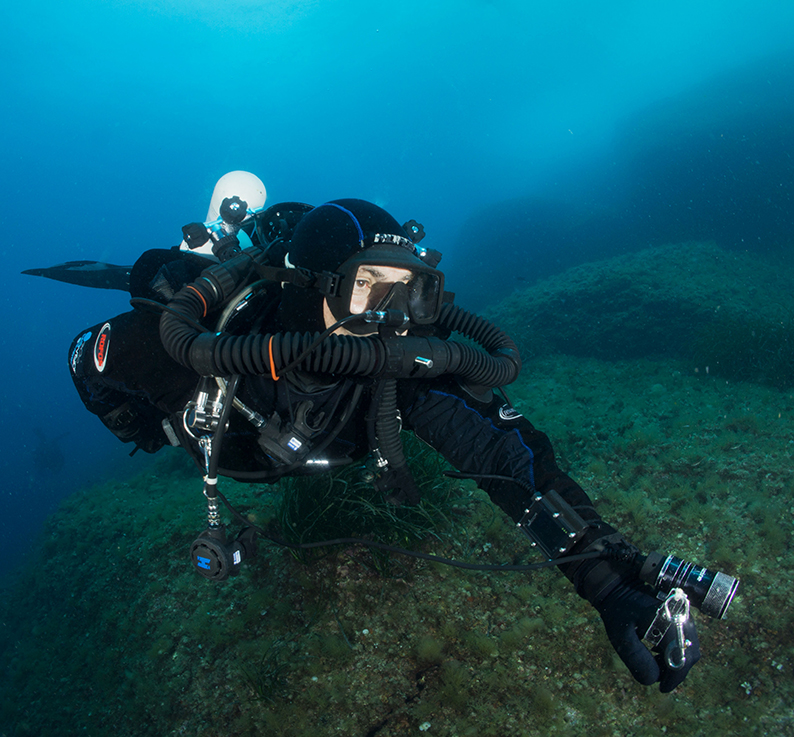 WHO IS IT FOR?
GUE's Closed-Circuit Rebreather Diver Level 1 course is intended for GUE Tech 1 divers who desire to learn to dive with a closed-circuit rebreather.

Tech 1 divers who aspire beyond their current level will find that this course gives them the tools to do so by building and enhancing their technical diving abilities.
WHAT WILL I LEARN?
Course outcomes include, but are not limited to: a competent and comfortable rebreather diver with solid personal and team skills; knowledge of rebreather functions, operation and how to act if experiencing failures; competent in performing bailout to open circuit, including ascent protocol; and can plan technical dive missions including, gas, absorbent canister endurance, oxygen toxicity management, and decompression strategies.
Prerequisites and Duration
Applicants for a GUE CCR Diver Level 1 program must:
Be a minimum of 21 years of age.
Be physically and mentally fit.
Be a non-smoker.
Be able to swim.
Obtain a physician's prior written authorization for use of prescription drugs, except for birth control, or for any medical condition that may pose a risk while diving.
Have passed the GUE Tech 1 course.
Must have a minimum of 25 logged Tech 1 level dives beyond GUE Tech 1 certification.
The Closed-Circuit Rebreather Diver Level 1 course is usually conducted in six days, requiring a minimum of seven dives, including two experience dives, as well as at least 48 hours of instruction, which includes classroom lectures, land drills and in-water work.